---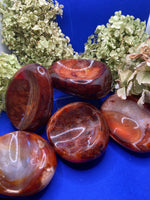 Carnelian
The life force of the Great Mother and of the womb space. Connected directly to the placenta of life, birthing vitality and wellbeing.
A stone of courage and bold aspect to support the choices that are right for the soul. Motivating the movement for harmony and equilibrium.
A perfect companion for leadership and voicing compassion as the leader of holding.
A stone of fertility on the physical sense of human life and also of manifesting dreams and desires.
It's a fire stone of the phoenix and transmutes change and rebirth of ideas and physicality.
A perfect companion for those who struggle to be heard through anxiety or fear of speaking.
Also aiding our sexuality and the power within its being of creation and prowess

Small
Weight:450g-500g
Medium
Weight:550g-650g
Large
Weight: 700g-900g
Picture for reference only- Products may vary in shape, size and colour from one in image. 


PLEASE NOTE: One bowl will be intuitively chosen for you.