---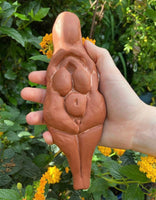 Clay Goddess - Earth Mother Workshop
Join Phiona for a magical workshop creating your own Goddess, in the shape and design as the energy flows through you to create a personalised embodiment of Source. Here we connect deeply to our ancestors as we are taken back to the traditional form of poppet's, spirit dolls or figures that would have been crafted by our elders as they gathered the earth from beneath their feet and shaped it into a basic human form to represent their need and requirement. Filled with herbs, personal items, scent and stones to empower the essence and to create a human bond and connection. Breathing life into it and working with its energy and creation to bring about a focused and concentrated energy.
The Earth Mother Shoppe clay Goddesses are crafted from British Terracotta air drying clay. Each one holds a uniqueness in the way it is shaped and formed and holds its own character. They can be placed on an Altar or Shrine, worked as a poppet, fetish or similar to a healing or worry stone. As they are formed from Air Drying Clay so that once the requirement has been attained they can be placed outside upon the earth as an offering where they become a part of the elements and cycle and slowly dissolve back into the earth, if you so wish.
You don't need to be an adept artist for this workshop for it is channelled creation that is awakened in the sacred space. The Essence of the Great Mother will flow through you as she guides your hands to craft her image that is needed for you to connect deeply with it and unleash the presence of Divine connection and energy. As this is air drying clay you will be able to take your creation home where it will need to dry in a warm place for the week after were you can then paint her if you so wish or decorate her in representation of her form.
These are in Person Workshops and are limited to groups of 4 to ensure the magic is held during the time together and the space to create your magical item.
Workshops are always held on Sunday 1pm- 4pm UK time
Our Next workshop will be Sunday February 19th 
Workshops are £85 and includes all items required to create your bespoke magical piece.
Payment is payable at the time of booking and 30 days prior to the workshop date.
If booking more than one Winter Workshop you are gifted 10% off
All payments are non refundable unless cancelled by Sanctum of the Priestess.