---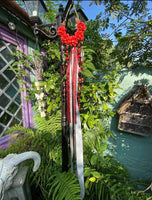 Horseshoe Talisman Workshop
Join Phiona for a magical workshop creating your own personalised and bespoke Talismans.  During the workshop you will be guided in how to select items along with those provided for you by Phiona, cleanse, enchant and imbue for your magical intentions.
The ultimate symbol of protection. Iron ore from the depths of the earth and Sedimentary rock that has laid within the magical being of the earths deepest of spaces. Forged from iron utilising alchemy in its rawest of creation. The Horseshoe is born of fire, from molten iron and shaped by the blacksmith in one of the oldest of tradition. Worn upon the hoof of the mighty steed as it travels the open spaces connecting with the energy of the land and in unison with the magic of  its being. Left in its original state and rusted in the elements this piece of magic is raw in its being. Empowered in form and emanates  the ultimate source of protective magic. Embellished with vintage beads, ribbons and lace and enchanted with magic, this talisman will hang in your home to protect the spaces of where you dwell. Hang it by or over door to keep negativity at bay, and to bring protection to your homestead. Crafted from your own hand and imagination during the Winter Workshop and guided by Phiona in the sacred space of the Earth Mother Shoppe.
Magic is not new. It's as old as time itself. It has seeped into the world around us and into physical form. It's held within objects that have lived a life past. That our ancestors held and used in their daily life. Imagine holding something that was held and used thirty, forty and fifty years ago. All that magic and energy that seeped into it. That is held in its very body of design. It's a keeper of a magical source. all items are created use vintage items as their base encompassing that energy of past times. Reworking the magic, empowering the item as a vessel for you to add your own energy and design into it. The creation of your own personalised Talisman for your needs, wishes and dreams. Adding your own custom additions to connect to your essence and create your own enchantment that is full of potent power and energy. Made with locally sourced used horseshoes, vintage beads, lace and ribbon.
These are in Person Workshops and are limited to groups of 4 to ensure the magic is held during the time together and the space to create your magical item.
Workshops are always held on Sunday 1pm- 4pm UK time
Our Next workshop will be Sunday December 11th (Just in time for Yule)
Workshops are £85 and includes all items required to create your bespoke magical piece.
Payment is payable at the time of booking and 30 days prior to the workshop date.
If booking more than one Winter Workshop you are gifted 10% off
All payments are non refundable unless cancelled by Sanctum of the Priestess.