---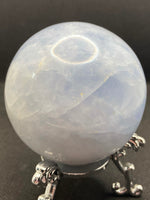 Celestite
A celestial gift of the Great Mother to open our awareness and higher aspect of being. Holding one of the highest energetic frequencies in its formation.
Activating the deep seated gifts of the soul and psychic gifts that have laid dormant from past lifetimes. This stone also holds a record of the soul and is often unique to the holder.
This stone interprets the language of the universe into understanding of the human on a mystical level of knowing.
Also a stone of visions and dreams it will connect to your inner aspect as you sleep, guiding and inspiring your journey and seeking as a magical and spiritual soul.
Also a calming stone, aiding the soothing of emotional stress and anxiety and helping balance to be restored.
Height:6.5cm
Weight:547g
 Picture for reference only- Products may vary in shape, size and colour from one in image.