---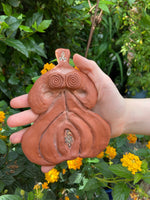 Crafted and created with the energy of the Divine Essence of the Feminine. To honour her womb space, her bloods and magic. To empower her being and to Re-Wild the soul.
Designed with a flat back to lay down upon the Altar or Shrine space or to be held within the palm as you trace the etchings as a labyrinth, creating a medative state to open the intuition and connect deeply with the Great Mothers Guidance. A truly empowered piece of artwork that doubles as a working effigy, connecting the Feminine Divine to the lineage of women who have walked the ancient path of magic before.
Decorated with Tibetan silver celtic charms to empower the piece and enchant it with magic. All pieces are crafted upon the Dark Moon energy and take a full moon cycle to dry and complete.
Height: 5.5 inch
Width: 4.5inch
The piece can be anointed with oils to enhance the working and to open the senses even more deeply.
The item pictured is for reference only and you will be sent one that is similar. Please note that each item is handcrafted and differs slightly in colour, shape and dries differently.