---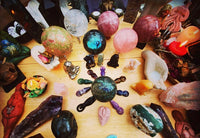 Earth Mother Crystal workshops.
A one day workshop working with the energy of nine crystals. Connecting to the deep earth spaces of where they dwelled. Of the messages they hold for humanity and healing the human form.
The Earth Mother Shoppe crystal days is not one of formality or of information that can be sourced through books, but one of deep connection to the Divine Embodiment of SHE, through her beautiful formations of crystal shape.
Learning to embrace, imbue and engage with the signature energy of the beautiful tones of crystalline embodiment of awakening.
Working with each crystal to develop an understanding relationship of how it harnesses the Divine Essence that is awakened as we align to its presence.
The workshop connects the soul to its human form and works with the vibrational frequency to empower and embody deeply within the Source flow through each crystal form.
The day begins with gentle acceptance of understanding and completes with the resonance of awareness of the transcendent aspect of the nine crystals carefully chosen for the awakening of the journey.
Only nine spaces are available for the one day workshop and costs £75 per person. Payment is required at the time of booking to secure your place. All bookings are non refundable but can be transferred if cancelled by Earth Mother Shoppe.