---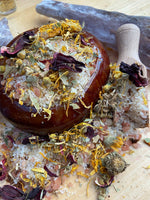 Earth Mother Sacred Soak
The Earth Mother Sacred Soak blend is a beautiful combination of feminine flowers and herbs to bring about Divine balance and serenity. Connecting deeply with the moons own cycle and to that of the feminine cycle of monthly rhythm of the journey of Maiden, Mother and Crone.
The blend is a sumptuous gathering of flavour, colour and aroma to uplift the senses of womanhood in her full aspect.
Including:
Calendula , Camomile, Hibiscus , Linden flower, Rose and a blend of Dead Sea, Himalayan and Epsom Salts. Also included are sumptuous Earth Mother Infused Oils.
The Sacred Soaks bring a magical element to the physical form, awakening, aligning and balancing the body. Focus on where you feel it sitting.
Meditate with it and allow the connection of the Great Mother to infuse into your being. The connection to the Divine strengthens. The auric field is cleansed, strengthened and protected for daily and magical connections.
All herbs and flowers are home grown in the Herbary, harvested, dried and blended or infused by Phiona.
To use the Sacred Soak
Place two spoonfuls of the blend into your bath, (if you are unable to use a bath, you can still utilise the Sacred Soaks by using a foot bath and soaking the feet to embody the infusion)
400g per Packet 
Customer Reviews
01/13/2022
Emma P.

United Kingdom
I recommend this product
Bathing in the nectar of The Great Mother
This wonderful blend of flowers and herbs creates a bath experience like no other. There is something so magical about soaking in a bath with petals and herbs floating around you. The scent really sends you to another level of relaxation. Combined with the salts this is also great for cleansing the aura and balancing. For me, this is a time that brings a deep connection with The Great Mother as you bathe in her wonderful nectar.