---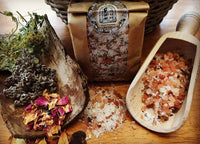 Earth Mother Shoppe Apothecary Divine Feminine Bath Salts
Creating the Divine Feminine Bath Salts is an awakening of all the senses. As the hand blended  salts  take form that include in proportion : Dead Sea, Epsom, Himalayan and Bicarbonate of Soda.            
They are all sourced for their purity and ethical high standards. Phiona feels them running through her fingers and it takes her back to the ancestral way of bringing together a blend. A little part of Phiona's essence connects deeply as the coming together of the differing salts and minerals already holds a sensual creation.
Then the Olfactory is awakened as dried herbs are added that were harvested during the summer months, carefully dried and stored with the intention of how they will be awaken as a feminine blend. The Dried flowers include:
Ladies Mantle (Alchemilla mollis),
lavender (Lavandula angustifolia), Jasmine (Jasminum officinale)
and Rose (Rosa canina)
With the addition of essential oils and herbs of: Basil (Ocimum basilicum), Bergamot (Citrus bergamia), Clary sage (Salvia sclarea), Geranium (Pelargonium graveolens),
Lavender (Lavandula angustifolia)
Mrytle (Myrtle communis),
Patchouli (Pogostemon cablin),
and Ylang Ylang (Cananga odorata)
Then to bring the sensual alchemy of the binding of the blend together copious amounts of the Divine Feminine Oil Blend (also available to purchase separately) of the Divine Feminine Oil Blend.
The mixing together and seeing the wonderful salts take in a different form as they come together is a wonderful moment of the salts creation. To soak in the salts holds the embrace of what it means to be feminine. To release the stress and tension that is carried as Divine being, to bring balance, healing and soothing to the physical form in a sensual soak. To awaken the dormant aspect of the 'She'. Her magic, her intuitive self and her power.
Can be used as a relaxing and balancing bath soak or foot soak. Each packet is created with the Divine Energy and harnesses a potent power.
£18 for 400g packet