---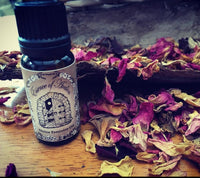 Earth Mother Shoppe Apothecary Divine Feminine Oil Blend
The essence of the Feminine is awakened within the growing, harvesting and drying of rose (Rosa canina) and Jasmine (Jasminum Officinale) flowers that have been lovingly tended to full bloom, releasing the heady aroma of the volatile oils each bloom holds.
With the addition of essential oils and herbs of: Basil (Ocimum basilicum), Bergamot (Citrus bergamia), Clary sage (Salvia sclarea), Geranium (Pelargonium graveolens),
Lavender (Lavandula angustifolia)
Mrytle (Myrtle communis),
Patchouli (Pogostemon cablin),
and Ylang Ylang (Cananga odorata)
Hand picking them from the Apothecary garden just at the right time to harness the scent, working alongside the pollinators to awaken the magic in each flower. Then infusing the delicate petals for nine weeks in organic sunflower oil. Harnessing the energy, smell and essence in the oil.
Once ready the scented and deeply infused oil is  strained and decanted and stored in a dark place.
During the autumn months Phiona begins to hear the call of the oil and knows it's time to begin the creation of the  cycles oil blends.  Always transporting her back to late spring of May and the warmer days when she spent time in the garden hand picking the petals, the sound of the birds, the energy of the year and the joy of being in the sacred space of nature, it never fails to warm the soul as the memory grows with the aroma.
The blend grows as organic essential oils are added to create the sumptuous Divine Feminine oil.
Derived to open and awaken the ancient and sacred feminine of the soul. Embracing the alchemy of magic and power and to the spaces to the female essence within.
Can be used to anoint, in a diffuser or as a scent. Each bottle is created with the Divine Energy and harnesses a potent power.
£15 for 10ml bottle