---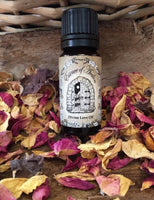 Earth Mother Shoppe Love Oil Blend.
The loving creation starts the year before, with the growing, harvesting and drying of Jasmine and Rose flowers. Hand picking it from the Herbary garden just at the right time to harness its scent. Then infusing it for nine weeks in organic sunflower oil. Harnessing it's energy, smell and essence in the oil. Once ready it's strained and decanted and stored in a dark place. As the aroma of the blend emerges the oil it takes Phiona back to the warm days when she spent time in the garden hand picking the petals, the sound of the birds, the energy of the year and the joy of being in her sacred space of nature. The blend grows as organic essential oils are added to create the sumptuous Love oil.
With the addition of dried herbs and Essential oils of: Black Pepper (Piper nigrum) Clary Sage (Salvia sclarea) Ginger (Zingiber officinale) Neroli (Citrus Aurantium) Patchouli (Pogostemon cablin) Sandalwood (Santalum spicatum) and Ylang Ylang (Cananga odorata)
Derived to bring a sense of deep love to the soul and surrounding spaces.  Embracing self love, care, compassion and nurture.
Can be used to anoint, in a diffuser or as a scent. Each bottle is created with  Divine Energy and harnesses a potent power.
£15 for 10ml bottle