---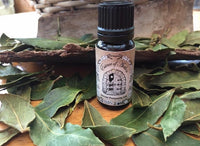 Earth Mother Shoppe  Prosperity Oil Blend.
The creation of this prosperous blend starts the year before, with the growing, harvesting and drying of the aromatic organic Bay leaves (Laurus nobilis) from the Apothecary garden. Hand picking each leaf just at the right time during the height of summer as it wains towards the autumn call to harness the full scent.
With the addition of dried herbs and Essential oils of: Basil (Ocimum basilicum), Bay (Laurus nobilis), Cinnamon (Cinnamomum verum), Clove (Syzygium aromaticum), Ginger (Zingiber officinale), Patchouli (Pogostemon Cablin) and Star Anise (Illicium verum).
Then infusing for nine weeks in organic sunflower oil. Harnessing the synergy and aromatic energy, and essence into the infusion of the oil.
Once ready the creation of the blend deepens with the decanting of the bay leaves and leaving just the precious infused oil, before storing in a dark place until called to make the small batches of the Prosperity oil blend.
It's always in the cooler autumnal months that the blend begins its journey as its blend is formed. Transporting back to the warm days spent time in the garden hand picking the leaves, with the connection of the nature. The aroma of late summer encapsulated within the organic infusion. Preserved in every drop of the prosperous growth and abundance of the nature that grows in the sanctuary garden space . The pathway adorned with blossom and blooms and shared in the gift of the infusion.
The blend grows as organic essential oils are added to create the sumptuous Prosperity oil.
Derived to bring prosperity, good fortune, luck and abundance to all aspects of life and living and can  be used to anoint, in a diffuser or as a scent. Each bottle is created with the Divine Energy and harnesses a potent power.
£15 for 10ml bottle