---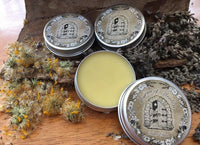 Earth Mothers Shoppe Apothecary Healers Balm
The creation of this gentle yet powerful balm starts the year before, with the growing, harvesting and drying of Arnica flowers (Arnica montana), Comfrey leaf (Symphytum officinale), Feverfew flowers (Tanacetum parthenium L.), Lavender heads (Lavandula angustifolia), Marjoram leaves (Origanum majorana), Plantain leaves (Plantago lanceolata),  Self Heal leaves and flowers (Prunella vulgaris) and St Johns Wort flowers (Hypericum perforatum). Hand selecting and gathering from the Apothecary garden just at the right time to harness the aroma and medicine.   
With the addition of dried herbs and Essential oils of: Black Pepper (Piper nigrum), Ginger (Zingiber officinale), Eucalyptus (Eucalyptus globulus), Peppermint (Mentha arvensis.), Wintergreen (Gaultheria procumbens),
Then the alchemy begins with  infusing the flora for nine weeks in organic sunflower oil. Harnessing the  energy, smell and essence in the oil, encapsulating the true magic of healing from the depths of the earth.
Once ready it's strained and decanted and stored in a dark place on the Apothecary shelves , waiting for the moment it will be birthed into being and the creation of its purpose is forged.
As Phiona begins to blend the oil it takes her back to the warm days when she spent time in the garden hand picking the petals, accompanied by the sound of the birds, the energy of the year and the joy of being in her sacred space of nature where she truly becomes one with the nature within the Herbary and Apothecary garden.
The blend grows with the addition of organic essential oils are added to create the sumptuous Healers Balm.
The Earth Mothers Shoppe Healers Balm holds a multitude of uses. For Arthritis, sprains, bruises, stings, bites, headaches, muscle and joint pain, a comforter for stress, anxiety,  sore throats, IBS, and PMS.
It is for external use only.
Each  is created with the Divine Energy and harnesses a potent yet gentle healing energy and power.
A 30g tin £20
Customer Reviews
12/18/2021
Anne

United Kingdom
I recommend this product
Beautiful Balm
I so enjoy using this Healing Balm, a gift to me, so extra special. Its scent is delicious, its so soft, melts into the skin, uplifts my spirit. I dab some on my pulse points and also on painful areas. So the scent travels with me through the day, subtle yet reminding me its supporting my energy. Highly recommend :)