---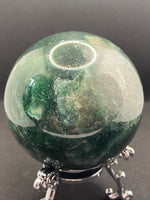 Green mica
Mica supports the inner reflection of the self. Of looking deeply within to see the truth of the soul and helps to take accountability for its actions.
Supporting us to observe without ego our individual flaws of personality traits and the learning required to navigate through them.
It offers deep transitional space to deal with the demons within that we all hide away and often keep caged and in denial.
The Great Mother gifts this stone for us all to utilise and to truly shift through the human blocks to free the soul.
Height:7.5cm
Weight:732g
Picture for reference only- Products may vary in shape, size and colour from one in image.