---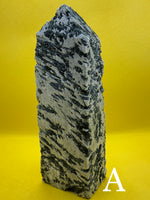 Green tourmaline
A stone that rejuvenates the heart and its love of the self and the life force of the human essence.
It translates the language of the emotional self and helps to identify the meaning of all they hold and express.
This stone takes the self directly to the core of the emotions to interpret the meaning and support in untangling the traits of the trauma that cause the emotional response.
This gift of the Earth Mother heightens the senses to become more acutely aware of the self and the needs of the soul.
Option A)
Height:18.5cm
Weight: 1145g
 Picture for reference only- Products may vary in shape, size and colour from one in image.