---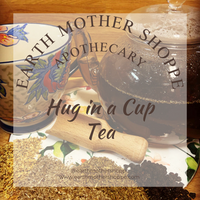 Hug in a cup tea 100g
A hearty and nurturing  blend of
Nettle leaf
Dandelion leaf
Sage leaf
Echinacea leaf
Thyme
Rosemary
Passion flower
Hug in a cup Tea has been blended with the specific intention of gifting that hug to the self when it's needed the most. When the days turn is not going well, when you feel your coming down with something, not having the best of times or something has jolted you out of your comfort zone, and you just need a hug.
This blend can also be when grieving, recovering from illness, struggling with an anxious mind and a restless soul.
Aroma: The first connection to this blend is through its aroma. The scent of a nurturing embrace that truly supports the human systems and organs. Along with the mind and emotions. The mind is often taken on a meander within a woodland path with woody scents and smells. The comfort of mossy banks and leafy dens that connect inward to the inner child.
Taste: the next connection is as we take sip of the comforting liquid, the warm taste of this blend first felt in the mouth as it warms the tastebuds and awakens us to the time when we felt nurtured and held in caress when we needed it the most.
Feels: This blend feels as if it grows arms and hugs you from inside the cup. Nurturing and embracing all you are, without compromise or judgment. It just holds you and brings a comfort that is soul deep.
*Each tea is hand blended and may differ slightly in taste and appearance from one batch to another.*
The Earth Mother Apothecary Tea Shoppe is an infusion of home grown and organically sourced flowers, leaves, berries, barks and roots to bring about magic, healing, soothing, inspiration, and clarity.
Each blend has been created for its purpose and to enhance your own ability and connection as you journey throughout the day.
***It's always recommended to avoid our blends during pregnancy or breast feeding, if you have an allergy to any of the ingredients, have a medical condition that may contra indicate to the ingredients  or if you are currently taking medication that may cause a reaction***
If you're unsure please do not hesitate to contact Phiona for advice before purchasing.
***may contain traces of nut***
How to use:
Tea for one
•Place a heaped teaspoon within a diffuser, teapot or tea strainer.
•Boil the kettle and allow to cool a little before pouring upon the blend.
•Once poured allow the blend to steep and infuse for as long as 10 minutes (cover with a cosy) to keep the brew warm) leaving for this time truly allows the blend to open its rich embodied taste, flavour and colour into the vessel.
•Once ready sip at leisure and  enjoy the energy that the blend holds.
•When finished with the strained blend it can be added to a bath for a sumptuous soak.
•all ingredients can be added to the compost once used.