---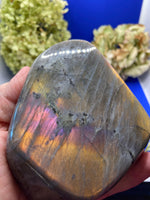 The stone of the ancestors, harnessing the spiritual light, wisdom and healing of the Aurora Borealis. A stone of deep spiritual truths and wisdoms, that awaken and apply as you ready to embrace them.
Labradorite brings deep transformation to the holder, connecting to the depths of the soul and its knowledge, of Divine Source and the universal wisdoms.
A stone of higher consciousness and magic that is of the core of all being. The whisper of the Great Mother locked in its frequency and accessed as the being raises their own.
Labradorite reminds us of the spiritual journey and the wonder within it, opening a soul led life path and journey that sees beyond the human form and awakens the deep form of magical and healing power that the being possesses.
The blue flash holds the aspect of spiritual truths and the aspect of the Great Father. Of the masculine strength and power that brings balance and awakening life.
The purple flash of that of the Great Mother aspect. Harnessing nurture and nature within the gentle caress of the Feminine Divine and her ancient wisdom of all being.
The gold flash the conduit of all wisdoms and knowledge from the time of being and creation. Harnessing the infinite wisdom of Source in human embodiment upon the earth.

Height:9cm
Width: 4.5cm
Weight:580g
Picture for reference only- Products may vary in shape, size and colour from one in image.