---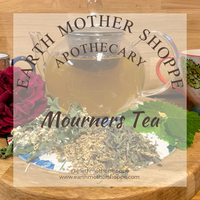 Mourners tea 50g
A compassionate and embracing blend of:
Hawthorn Blossom
Rose petal
Motherwort
Elderflower
LemonBalm
Mourners Tea has been blended with the specific intention of supporting the soul, being and mind when mourning and facing grief and loss. Not just of a physical passing of a life, but in times when we are mourning, when our children leave home, when we enter into a new phase of life, a job loss, the end of a relationship or friendship, the realisation of yourself. Grieving the younger version of the self, helping during the counselling of the mind, and for supporting so many other situations that this blend can offer.
Aroma: The first connection to this blend is through its aroma. The scent of something ancient comes from the cup as the blend nestles within the vessel. Slightly woody yet floral. With musky undertones that invites the senses to release its grief into the cup. A subtle scent that forms a delicate wisp around the olfactory of leafy blends that brings deep comfort.
Taste: The next connection is as we take sip of the comforting liquid, the warm taste of this blend bursts with Aniseed and liquorice with a sweet burst of familiarity before shifting to a savoury sensation. The Tannins drying the mouth and embracing our emotions upon its journey.
Feels: This blend wanders through the graveyard at dusk where the cold wind dances around the being on a dark winters day, yet the illumination of one lonely candle brings comfort for the changes ahead. The blend brings the sacredness to the mausoleum of life and a deepening introspection of understanding. Soothing the sorrow within the void of the heart space.
*Each tea is hand blended and may differ slightly in taste and appearance from one batch to another.*
How to use:
Tea for one
•Place a heaped teaspoon within a diffuser, teapot or tea strainer.
•Boil the kettle and allow to cool a little before pouring upon the blend.
•Once poured allow the blend to steep and infuse for as long as 10 minutes (cover with a cosy) to keep the brew warm) leaving for this time truly allows the blend to open its rich embodied taste, flavour and colour into the vessel.
•Once ready sip at leisure and  enjoy the energy that the blend holds.
•When finished with the strained blend it can be added to a bath for a sumptuous soak.
•all ingredients can be added to the compost once used.
***may contain traces of nut***