---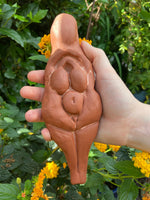 Crafted and created with the energy of the Divine Essence of the Feminine. Holding the healing energy of the Great Mother in her primordial form of Goddess. With a blend of organically homegrown herbs from the healing Garden of Phiona that were harvested in the last cycle of growth and carefully dried in the seasons thereafter. Blended to bring the ultimate healing of the earth and carefully placed in the figures belly during her creation.
Designed with a flat back to lay down upon the Altar or Shrine space or to be held within the palm and worked in hand. A truly empowered piece of artwork that doubles as a working effigy, connecting the Feminine Divine to the lineage of women who have walked the ancient path of magic before.
All pieces are crafted upon the Dark Moon energy and take a full moon cycle to dry and complete.
Height approx : 8.5 inch
Width approx : 3 inch
The piece can be anointed with oils to enhance the working and to open the senses even more deeply.
The item pictured is for reference only and you will be sent one that is similar. Please note that each item is handcrafted and differs slightly in colour, shape and dries differently.