---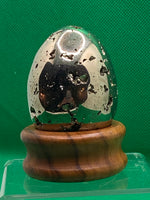 Pyrite
The ultimate protector, showing the bearer how to use illusion to deflect energy. Appearing as one (fools gold) but actually being another.
An ultimate shield in the defence of the dark arts, deflecting all negative vibrations, ill will or intent.
Pyrite also enhances memory and the recall of wisdom when required. It sees only truth and reveals what lays behind the shields of others.
Uses by ancient healers for the shallow breath and to alleviate tight chest and asthma.
Height:5.5cm
Weight:240g
Picture for reference only- Products may vary in shape, size and colour from one in image.