---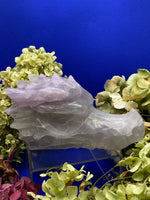 Rainbow fluorite
Fluorite is renowned for its ability to transmute negative energy into positive. It is a perfect alliance for physical or spiritual burnout.
It also brings a deep clarity to the mind and awareness of ones needs. It detoxifies confusion and mind fog to bring about clear thinking.
Rainbow fluorite harnesses the attributes of the universal aspect and holds the beautiful array of colour that flows with ease from one to the next.
When utilising this stone we can learn to flow from one aspect to the next with a greater ease and understanding.   

Length:15.5cm
Height:8cm
Weight:1130g
Picture for reference only- Products may vary in shape, size and colour from one in image.