---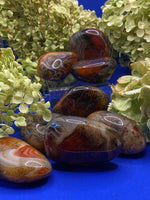 Sardonyx
Oh the beauty that is Sardonyx. The landscapes held within its form enabling the scryer to read its wisdom and knowledge.
An amazing power stone of protection and shielding. Opening of clear communication when difficult to clear voice and word.
Sardonyx grants power to the holder. Empowering the power already held within and ensuring it is carried forwards.
Increases vitality and stamina to carry out to the end tasks, duties and supports willpower to ensure focus of mind.
A perfect companion when dealing with addiction. It supports the mind in over coming the mindset that is held captive by addictive actions.
Small
Weight:50g-100g
Medium
Weight:100g-150g
Large
Weight: 150g-200g
Picture for reference only- Products may vary in shape, size and colour from one in image. 


PLEASE NOTE: One palm stone will be intuitively chosen for you.