---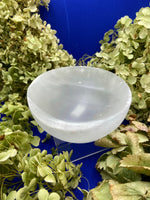 Satin spar Selenite
The stone of the moon and her illumination. Bringing awareness, lick and good fortune to the bearer.
A super cleanser and charger to all that surrounds it and clears space with its pure vibrational frequency.
A fist aid stone that calms the aura, physical, mental, emotional and spiritual energy.
Perfect for unblocking stagnant and pooled energy that is absorbed from daily living.
A wonderful reflector for negative energy of ill intent, hex or curse.
Cleanses and charges all other stones and crystals and programs their purpose with clear intention of use
Medium
Weight:482g
Picture for reference only- Products may vary in shape, size and colour from one in image.