---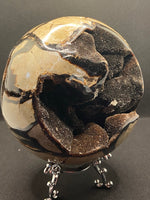 Septarian
The Dragon stone and holder of ancient wisdoms. Keeper of the Earth and Great Mothers wisdoms.
A stone of secrecy and teaching of protecting all you share outwardly with the world. That once shared it can never be recalled and held close.
A stone of deep sharing of inner wisdoms and knowledge of ancient lore and lands before man.
Awakening the knowledge of Source within the being snd of mind of ancient aspect in modern form. Aligning the emotional, physical and spiritual as one.
A stone of balance and inner working. Druzy agate appears to be a simple stone from the outside, yet upon opening holds an array of beauty and wonder.
A little like the human aspect that our inner beauty is connected deeply to our soul and conscious being.
A stone of unconditional love and peace that harmonises the harshest of essence. It's a wonderful stone to begin the crystal journey and pathway of crystal working.
Druzy agate amplifies the bodies own natural healing and strengthens the resolve for overcoming mental, physical and emotional blockages.
Created by water being pushed into a pocket of rock, they also support the emotional body when it feels forced to respond in a specific way.
This stone supports the inner reflection to ignite the illumination of the soul.
A perfect talisman to protect and enhance boundaries. To keep safe all that you nurture and hold dear.
Height:13cm
Weight: 2334g
Picture for reference only- Products may vary in shape, size and colour from one in image.