---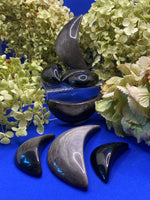 Silver Sheen Obsidian holds all the vibrational attributes of Obsidian. Yet the Silver Sheen connects the illumination of the moons aura into the ground spaces.  Illuminating the shadows to empower healing and clear stagnant and barren pockets of the spiritual from. 
The moons reflection is held within the silver hue and holds promise of transitional phase of transition. Silver Sheen encourages, nurtures and caresses the release of the harsh lessons that lock the soul into hardship. 


Silver Sheen is the Seers Stone, opening the portal of the realms of the unseen. Gifting wisdoms to be told and shared to those who are seeking. 
Within the Crescent moon the moon phase itself it held deeply. The phases of waning and waxing to enhance the magic and healing in gentle ebb and flow. To gently transition the energy and coax it into new sense of being. 


Working with the Silver Sheen moon upon the moon phase connects the earthly realm to that of Source and embodies and empowers the workings to align to that of the moons power. 
Text © 2021 Phiona Hutton ~ Earth Mother Shoppe

Small
Weight:50g-100g
Medium
Weight:100g-150g
Large
Weight: 150g-200g
Picture for reference only- Products may vary in shape, size and colour from one in image. 


PLEASE NOTE: One palm stone will be intuitively chosen for you. 
Customer Reviews
10/25/2021
Anne N.

United Kingdom
I recommend this product
Silver Crescent Moon
The look, quality and feel of this stone is amazing, feels alive and vibrant to touch. I got the large size, its fits into my hand, so great for meditation, dreamwork, connection. This came with another item and so many little free gifts too. An oracle card, heart wax melt, crystals, dried leaves and flowers, intriguing little bags of dried herbs and flowers. Treasure trove of delight! :)