---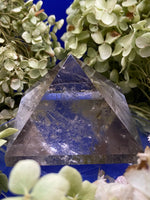 Smokey quartz
A wonderful grounding stone that aligns the soul to the rhythm of the Great Mother. It neutralises all negative aspect especially the evil eye, hexes, curses and all ill intent
It can aid negative thoughts toward the self to be dispersed especially those of depressive form.
A wonderful shield of nightmares and promoter of dreams and visions.
A true mystic stone of the ancients that illuminates the soul and all its harnesses. It promotes a defensive shield around the Auruc field and strengths magic and healing energy.
Height:5.5cm
 Weight:204g
  Picture for reference only- Products may vary in shape, size and colour from one in image.