---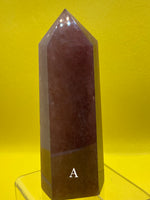 Strawberry Quartz is such a gentle piece of carved wonder that harnesses Divine love within its expression. A powerful supportive stone when experiencing life challenges, stress or anxiety. Aiding the gentle nurture during depression and times of despair. A stone of shamanic essence that connects the physical to the emotional and anchored by the soul. Aligning all for healthy wellbeing of mind and body.
Strawberry quartz embodies the inclusion of other minerals that gifts it the gentle hue, which in turn teaches the self to accept all we are and to harness every bit of the self.
Carved into a tower form to bring strength, protection, ancestral wisdom and harnessing the path of the wise ones. Gifting connection to past lives and powers. Pinpointing the energy from its point to target the surge of energy it holds into the spaces you need it the most  

Ethically sourced from Chihuahua Mexico

Option A) 
Height:12cm
Weight:293g
Option B) 
Height:
Weight:
Option C) 
Height:
Weight:
Picture for reference only- Products may vary in shape, size and colour from one in image.