---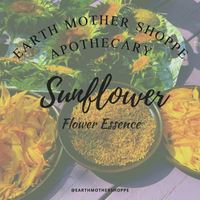 Sunflower Flower Essence 15ml
Harvested at the height of summer from local organically grown sunflower farms. The Flower essence begins its transformation from beautiful personification of abundant flower to essence.
Gathered by hand and chosen for the healthiest of bloom adorned in rich colour of yellows and oranges that have held connection to the land and sun, empowering the flower with its gentle vibration.
Each petal is plucked from the head and placed in the Green Aventurine flower essence bowl on the sunniest of days. Covered in spring water and left to infuse in the suns warmth to begin the transformation vibrational energy.
Sunflower essence harnesses joy, happiness, hope, warm, freedom, youthful, playful, rejuvenating, abundant, wholesome, nutritious, memories, positive, motivation.
Working with Sunflower Essence can help support feelings, emotions and reactions of worry, fear, anxiety, overthinking, fear, lack in confidence or decision making, fear of failure or success in achieving. Sunflower can also aid the supporting system of digestion and postpartum mood and depression.
Sunflower unifies the Divine Feminine and Divine Masculine. Bridging the gap of communication and understanding. A supportive essence in relationship issues and breakdowns. Sunflower teaches of flexibility and growth.
Sunflower grounds the physical when it is struggling with focus and fear, it brings the soul and huger consciousness into the physical form and anchors it within gentle embrace.

Directions for working with our Flower Essence
Dosage recommendations.
Gently agitate the bottle before using. Draw the pipette and drop three drops either directly onto the tongue or mixed with spring water in a glass to sip when needed.
Take three drops initially upon waking and three drops before retiring to bed at the end of the day.
Extra drops can be taken as needed. To do this. Take a drop each time you think of the essence (as this is its way of calling to you)
The essence is safe to take long term. Just be mindful of any medical interactions you may have personally and that the remedy does contain alcohol.
Keep in a cool, dark place, stored away from bright light and sun. Do not store in the fridge or around strong aromas.
and not with herbs or coffee.
Ingredients. Ensure Flower Essences are kept away from children and animals.
Flower remedies do not replace medical treatment or guidance. If you are having recurrent physical symptoms seek medical intervention immediately.
Cautions

Keep out of reach of children.
Consult your GP or medical care provider before using if pregnant or breastfeeding.
Always check any contra- indications to any allergies you have and / or any medication you take that maybe affected by the essence.
May contain traces of nuts.