---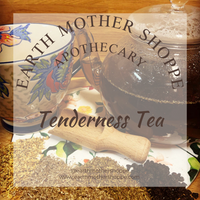 Tenderness Tea 100g 
A relieving and alleviating blend of :
Yarrow
Calendula
Liquorice root
Linden flower
Celery seed
Dandelion root
Nettle leaf
Tenderness Tea has been blended with the specific intention of supporting the pain ridden body within muscle and bone. To help support the tenderness within an aching form of living on daily basis from arthritis, to headaches and all other pains.
This blend can also be utilised to enrich our magical workings or release and cleansing as we move to let go of all we carry in painful hold.
Aroma: The first connection to this blend is through its aroma. The scent calms the nerve endings and induces a calming and healing aspect. The liquorice and celery forming part of the aromatics as the first inhalation of scent. Bringing a warming sense that soothes the disturbances that pain instills. A heavy aroma that's dense in a nurturing sense of a comfortable chair and supporting cushion.
Taste: The next connection is as we take sip of the arousing liquid, the woody taste offers an engaging taste that flows and aligns to all the tastebuds in unison. Reaching inwards to caress the pain fields of the body and mind to sooth and nurture in healing embodiment.
Feels: The Tenderness blend is easing and releasing . Full of ancient healing born of the Great Mother to soothe an ailing body that is struggling with pain and aches. Dulling the pain receptors to lessen the intensity and helping the body to illuminate the build up of toxins that block flow and the body's own healing.
*Each tea is hand blended and may differ slightly in taste and appearance from one batch to another.*
The Earth Mother Apothecary Tea Shoppe is an infusion of home grown and organically sourced flowers, leaves, berries, barks and roots to bring about magic, healing, soothing, inspiration, and clarity.
Each blend has been created for its purpose and to enhance your own ability and connection as you journey throughout the day.
***It's always recommended to avoid our blends during pregnancy or breast feeding, if you have an allergy to any of the ingredients, have a medical condition that may contra indicate to the ingredients  or if you are currently taking medication that may cause a reaction***
If you're unsure please do not hesitate to contact Phiona for advice before purchasing.
***may contain traces of nut***
How to use:
Tea for one
•Place a heaped teaspoon within a diffuser, teapot or tea strainer.
•Boil the kettle and allow to cool a little before pouring upon the blend.
•Once poured allow the blend to steep and infuse for as long as 10 minutes (cover with a cosy) to keep the brew warm) leaving for this time truly allows the blend to open its rich embodied taste, flavour and colour into the vessel.