---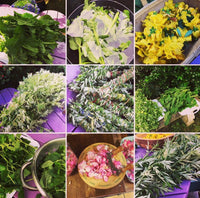 Two day Herbary Workshops.
Walk the wilds of the earth spaces. Connect with the nature of the land. Commune with the gifts of nature and learn the folk lore of herbal wisdom.
Taking you through the seasons in cyclical movement, dancing through the earths breath as she breathes life into the spring and retreats within Autumn, as our ancestors did before us.
Listening to the lands, observing the language of the earth and becoming aware of its need and care. As we commune with the locality of the earth around us, we become aware of all she yields.
A time of connection to the ancestral pathway that resides within us all. Learning about nine herbs,  How to identify them, grow them, harvest them, process them for maximum use, store them and apply their medicine.
Each workshop offers a different aspect, in some, time in nature and getting to know the herbs and in others the making of infused oils and balms to take home.
Over a two day herbary workshop with Phiona, you will be able to engage with the connection of the wise woman, the herbal healer and the sage.
Workshops are held from mid spring to late summer each year.
During the first day you will be guided to the identification of nine essential herbs, how to grow and harvest them and the best way of drying them. You will gather a selection of each herb for you to take home, dry and connect with.
On the second day which is held approximately a month later, you return to the Herbary and learn how to process your dried herbs into healing apothecary items. From infused oils, balms, creams, incense, salts, tinctures and flower essences. The product you will make is dependent on the herbs gathered prior and will be from one or more of the apothecary items available.
All herbs and items required for the making of apothecary items are provided by Earth Mother Shoppe.
Only nine spaces are available for the two day workshop and costs £195 per person. Payment is required at the time of booking to secure your place. All bookings are non refundable but can be transferred if cancelled by Earth Mother Shoppe.