---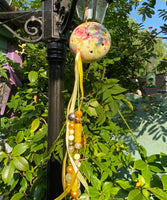 The Wisdom Amulet brings about the specific need for clarity  to encompass the mind space in its embodiment as the wisdom keeper of thought and insight.
Working on the higher frequency for the souls aspect, this Amulet is enchanted to awaken Wisdom  that is required for safe passage throughout the journey of life.
Wisdom is not intellect , it's of the sage and wise folk of ancient time and before. Passed through to the self within the DNA of the bloods we carry. Awakened within this Amulet to empower the mind with knowledge, memory, perception and insight.

To place a Wisdom Amulet within the Homestead opens clarity of mind, understanding and perception. In the study space to aid recollection and memory. Awakening the wise part of the mind that connects beyond the physical snd crosses boundary for clarity and claircognizant wisdom.
With the addition of  herbs, oils and crystals for Wisdom that are carefully blended and placed within the charmed vessel the amulet begins to awaken. Additional items are placed within, to bring bespoke connection for the petition and need. All handcrafted by Phiona within the Full Moon to empower and harness the full Wisdom element of the moons aspect.
A Wisdom amulet placed in the home can bring enlightenment to the area and all within.  Placed above the bed can aid the understanding of the dreamscape and the message within vision.
Wisdom amulets can aid in acceptance of knowledge gained and learned.  Opening to wisdom still to be attained and understood. Opening to the wisdom of the ancestors and guiding souls. Aiding in learning for academia and study ensuring recollect and recall.  Bringing a Divine essence within space and being.
Wisdom Amulets can be customised and bespoke commissions created for specific needs and requirements

Length:50cm
Width:8cm
Weight:196g
Picture for reference only- Products may vary in shape, size and colour from one in image.